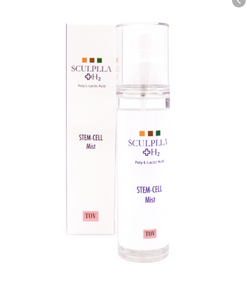 Sculplla Stem Cell Mist will not only assist with reducing fine lines and wrinkles but it will create a radiant, glowing complexion, and balanced skin tone. The results build with continued use and improves the texture and bounce of youthful looking skin.
 Lotus Plant Stem Cell gives vitality to the skin by forming a protective barrier. When used on top of other products, it will improve results.
Hydrolyzed Collagen relaxes tired and dull skin and aloe vera leaf extract hydrates the skin and makes the skin glow.
Sculplla Stem Cell Mist contains the collagen stimulating Poly L Lactic Acid  (PLLA), which is the magic ingredient found in the injectable filler Sculptra and in the Sculplla Filler Mask.
PLLA, also known as a bio simulator, liquid bandage or dissolving sutures, is a safe ingredient that's been used in surgery for decades because of its ability to stimulate collagen which supports healthy skin.