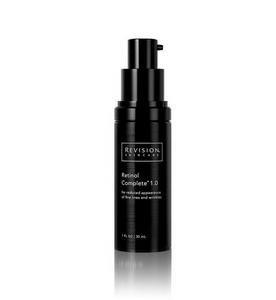 Product Description: Retinol Complete® 1.0% is a revolutionary Retinol serum that brightens and smooths the texture of facial skin. The powerful combination of five antioxidants and a proprietary blend of botanical extracts boosts the effectiveness of Retinol and provides long-term hydration.
Benefits of
Retinol Complete® 1.0%
Reduces the appearance of wrinkles and fine lines

Smooths and brightens skin's texture

Time-released formula delivers maximum Retinol benefits with minimal irritation

Skin's hydration levels are boosted, which combats the dryness associated with Retinol

Two strengths are available depending on skin's tolerability (Retinol Complete® 1.0% and Retinol Complete® 0.5%)
Who Should Use Retinol Complete® 1.0%?
All skin types benefit. This Retinol serum is ideal for oily, combination, and mature skin types.

Everyone concerned with preventing or treating aging skin
It's good to note that the earlier you start using products containing pure and stable Retinol, the better! This is the best way to help combat wrinkles and fine lines before they become noticeable. Continual, consistent use of a Retinol serum is one of the keys to fighting the signs of aging and to keeping your skin looking its best.
How to Apply: Only use at night. After your evening cleanse, dispense one to two pumps of Retinol Complete® 1.0% on the back of your hand. Apply to facial skin two to three times per week, increasing usage as tolerated. Be sure to avoid the eye area. While using this product, Intellishade® or Multi-Protection Broad-Spectrum SPF 50 are recommended.
Before starting the use of this Retinol serum, talk to your skincare professional about the frequency of application that is right for you. Retinol may initially cause peeling or dryness in some skin types. However, Retinol Complete® 1.0% is formulated with Ophiopogon japonicus Root Extract and Sesame Extract to help boost hydration levels of the skin. Reduce usage frequency if excessive dryness, irritation, or redness occurs.
Ingredients: Water (Aqua), Glyceryl Stearate, Allyl Methacrylates Crosspolymer, Isosorbide Dicaprylate, Glycerin, Cyclopentasiloxane, Ethylhexyl Palmitate, Caprylic/Capric Triglyceride, PEG-100 Stearate, Bakuchiol, Biosaccharide Gum-1, Retinol, Ubiquinone, Tetrahexyldecyl Ascorbate, Squalane, Ophiopogon Japonicus Root Extract, Glyceryl Caprylate, Tocopherol, Phenoxyethanol, Disodium EDTA, Cetyl Alcohol, Sesamum Indicum (Sesame) Seed Extract, Acrylates/C10-30 Alkyl Acrylate Crosspolymer, Polysorbate 20, Butylene Glycol, Chlorphenesin, Triethanolamine, Xanthan Gum, Tocopheryl Acetate, Benzoic Acid, Sorbic Acid, Dimethyl Isosorbide, Fragrance (Parfum). 
Retinol Complete® 1.0% Ingredient Highlights:
Retinol 1.0% reduces the appearance of wrinkles and fine lines.

Bakuchiol provides broad-spectrum antioxidant benefits and enhances Retinol benefits.

Isosorbide Dicaprylate delivers long-term controlled hydration to areas of the skin most in need.

Ophiopogon japonicus Root Extract boosts hydration levels of the skin.

THD Ascorbate is the most stable and potent form of Vitamin C and helps brighten and even skin tone.

Sesame Extract helps smooth and plump skin's texture.
Toni's Take:
Retinol Complete® 1.0% is the gold standard in anti-aging! One of the 3 key products for anti-aging, this Retinol serum tricks your skin into behaving like it did when you were younger. It's easily tolerated by most skin types and irritation is minimal since this formula has hydrators that balance out the irritation that can be experienced by new Retinol users.