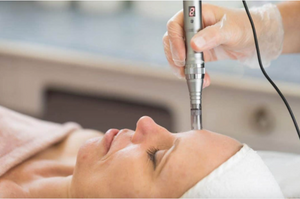 Expires in 1 year!
What is Microneedling?
Microneedling, also known as Collagen Induction Therapy, is a cutting edge, minimally invasive anti-aging and anti-wrinkle treatment that naturally rejuvenates the skin through regenerative healing.

Clients will experience an evening of the skin tone, tightening of the skin, and an overall improvement to the skin's condition and appearance. This treatment is also ideal for those looking to improve acne and other types of scarring as well as individuals with skin conditions like melasma that prevent them from being eligible for other forms of skin rejuvenation.

Results like this were once only possible through more invasive treatments with significant down time, but with microneedling, you can see visible results quickly, without having to put your life on hold.

This procedure targets:
Fine lines and wrinkles
Sun damage
Hyperpigmentation like dark or red spots
Other skin pigment issues such as melasma
Some raised scarring (example: surgical scars)
Depressed scars (example: acne scars)
Benefits:
Smooths the surface of the skin
Stimulates circulation
Evens skin tone
Improves the overall condition and appearance of the skin
How Does it Work?
The goal of microneedling is to create small, invisible punctures in the dermal (lower) layers of your skin while keeping the epidermal (the outer protective layer) intact. This breaks up the old collagen strands in the dermal layers, prompting the production of new collagen and elastin fibers.

Using a small handheld device with multiple microneedles, your aesthetician will perform 1-3 passes over the skin. As the microneedles create punctures, the skin reacts by shifting into its natural repair mechanism as it produces new collagen and elastin. This natural skin renewal process works from the inside out, resulting in smoother, tighter, more evenly toned skin. This treatment is available for the face, neck and chest.