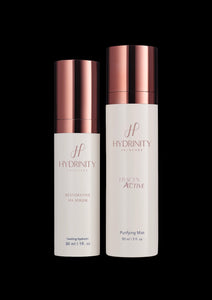 No one wants to wait months for results. That's why we brought in Hydrinity Skin Care to LaHaye Skin Care!
Hydrinity combined the most skin transforming ingredients available today into an easy to use routine, achieving results that no other skin care on the market can match.
The Restorative Kit uses injectable grade, small batch Hyaluronic Acid.  The formula also includes both high and lower weight molecules. 
So what's that mean for your skin?  High weight molecules draw moisture to the skin's surface, reducing the appearance of fine lines and wrinkles and increasing elasticity.  Lower weight hyaluronic acid penetrates deep into the dermal layer delivering patented peptides and antioxidants that generate healthy, smooth, luminous skin!
HOW TO USE:
Morning:  Cleanser, spray Hyacyn Mist, apply Restorative Serum, and finish with SPF.
Evening:  Cleanser, spray Hyacyn Mist, apply Restorative Serum and finish with an additional moisturizer if you wish.
HYDRINITY can be a stand alone skincare line but can also be added to any existing skincare routine.  
Proven Performance:
280% increase in accelerated healing on DAY 1.
200% better wound appearance on DAY 1.
61% improvement in smoothness within 1 week.
What are people saying?
"I had blotches and stressed skin for years. In just 2 weeks my skin looked and felt better than it has in ages!"
"The Restorative Serum is amazing.  I have super sensitive skin and I've had trouble with other skin care - but this feels like it is actually repairing my skin."
"I used Hydrinity after a facial procedure and it was so calming and soothing - my skin really transformed!"
Questions about if Hydrinity is right for you?  Please reach out!
HYDRATION TO THE POWER OF INFINITY.  THAT'S HYDRINITY!