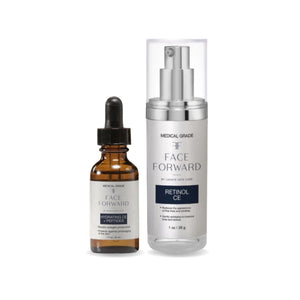 If you want an anti-aging routine that's simple but very multifunctional, you need these in your routine.  They were both formulated to address multiple skin care concerns and take very little time in your routine!
Face Forward's Hydrating CE + Peptides :
* Boosts collagen productions
* Hydrates the skin with hyaluronic acid
* Protects against photoaging
* Helps brighten uneven skin tone
Retinol CE:
* Dramatically reduces the appearance of fine lines, wrinkles and hyperpigmentation.
* Gentle exfoliates, improves tone and texture
* Helps to normalize the physiology of the skin to make it more healthy and radiant
* Resurfaces and rejuvenates the skin for a clearer looking complexion
* Contains patented Retinoid Complex including Vitamins C and E encapsulated with a propriety trans-epidermal carrier.
Directions for use:  
Morning:
1.  Cleanse
2.  Hydrating CE + Peptides
3.  Moisturizer with SPF
Evening:
1. Cleanse
2.  Retinol CE
3.  Moisturizer
This is as simple as it gets and covers a lot of correction!
If you're more of a skincare junkie and want to add to this basic routine, here are some suggestions that will give you a more corrective routine and even better results!
Balancing Toner (contains peptides that relax facial muscles)
Micropeel Pads (gentle exfoliators that helps clear pores, improve acne and improve texture)
Brightening Pads (brightens dull skin and lightens brown spots,  also helps reduce redness)
Needle Free Beauty (great for reducing expression lines on the face)
Neck Repair (lets not neglect the neck and chest - way tooo important for an overall youthful look
Eye Repair Promoter (after a certain age, eye cream is a must to address the delicate eye area)
Obagi Hydrate Luxe (hydrating peptide based moisturizer