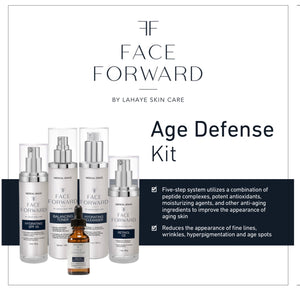 If you're looking to begin a prevention program or treat aging skin, this is a really simple and effective way to begin your journey to healthier skin!  I personally designed the kit to include products that were medical grade, effective, and multi-functional.  Every product will offer multiple benefits to the skin.  The full system includes botanical extracts, peptides, antioxidants, retinols, and a variety of skin friendly vitamins in high concentrations to significantly improve the skin.
The Age Defense Kit is clinically proven to improve and prevent the signs of aging by visibly diminishing the appearance of fine lines and wrinkles.
- Proprietary trans-epidermal carrier ensures optimal delivery of actives to repair the damaged dermal matrix, stimulate cellular regeneration, enhance collagen production and counteracts the effects of UV induced sun damage
- Long term use of the Age Defense Kit results in dramatically noticeable reduction of fine lines, wrinkles, hyperpigmentation (brown spots) for improved skin tone and texture.
-  Technologically advanced formulas contain multiple peptide complexes, alpha and beta hydroxy acids, vitamins, antioxidants and botanical agents to deliver immediate and long-term improvements to aging skin.