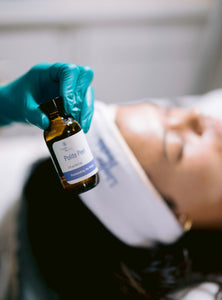 Linder Peels are new peels on the market and formulated for results without inflammation to the skin. The formulas aid in initiating programmed cell death to eliminate dysfunctional cells.  This allows for more frequent treatments for regular skin maintenance.  There are 3 types of peel and a match for every SINGLE skin type, so if you've never tried a peel this is your chance!
Here Peel:  Your go-to treatment to reduce fine lines, resurface and smooth texture, and fade all forms of discoloration including skin yellowing, dark spots and redness.
Spotless Peel:  Control oil production, reduce scarring and pitting left from cysts, pimples and pustules, and unclog pores with this targeted treatment formulated for oily and breakout prone skin.
Polite Peel:  Powerful, yet gentle to reduce wrinkles, resurface and smooth texture, and fade all forms  of discoloration including redness, with this advanced treatment formulated for sensitive, hypersensitive and compromised skin.